The Mixed Martial Arts Program at Straight Blast Gym in Niagara provides you with the most complete set of self-defense skills you could have. 
A Complete Martial Art
Mixed Martial Arts is one of the fastest-growing sports in the world.  It incorporates striking, clinch work, and grappling, making it one of the most complete and effective martial arts around.
Get into great shape
Learn self-defense
Test yourself as a fighter
Realize your Goals
Want to learn Mixed Martial Arts?  Our amazing QUICK START TRIAL makes it easy for you to get started with us.
Mixed Martial Arts at SBG Niagara
You don't have to be a fighter to train like one.
The SBG MMA Program is designed to provide the same benefits our MMA fighters get, to those that want to enjoy training in this complete martial art to improve their fitness.
Learn To Put All Your Skills Together
Your SBG Niagara Coaches are experienced MMA athletes.
We provide a safe and comfortable setting for learning, and will help you become confident in your MMA skills.
From striking, to clinch, to the ground, you will have FUN using all your skills during our MMA classes.
Experience the thrill of being able to throw strikes, clinch up, and take someone to the ground and control them there.  Tons of FUN.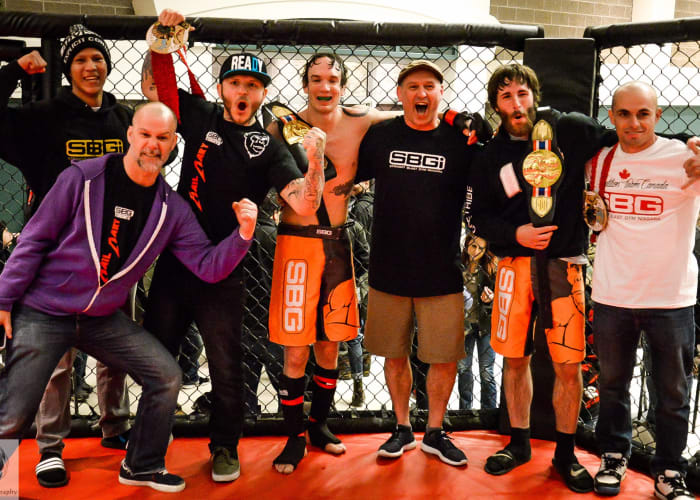 Get Into The Best Shape Of Your Life
We use the same training methods we use for our MMA fighters, but scaled to suit everyone from the beginner to the experienced athlete.
You will improve your stamina, strength, power, speed, and overall fitness level.
It doesn't take long to start feeling the positive results of training for yourself.  Increased muscle tone, better endurance, and increased energy that lasts throughout the day are just some of the benefits you receive from our MMA training.
MMA Training For Every-body
We have trained people from all walks of life, with everyone having their own goals. 
Our Coaches are proud to help you achieve your goals.  We have trained people who are recreational athletes, as well as taking athletes to the highest levels, having coached athletes to Regional, Provincial and National Amateur MMA Championships.
Whatever your goals are, we will help you be successful.
Mr. Beaupit quickly developed a strong rapport with each class and was able to maintain on-task behaviour in even the most challenging students. The core elements of his program are life skills that are transferable to all aspects of students lives. He has a commanding presence in front of both large and small group settings. Mr. Beaupit is a gifted teacher with a wealth of experience and uncommon ability to make connections with his students.