Straight Blast Gyms Niagara is home to the most "Beginner Friendly" Martial Arts, Fitness, and Life Skills programs in the Niagara Region, for men, women, and children of all ages.
Be A Part Of The Tribe
Joining SBG Niagara gives you an opportunity to experience community as you've never felt it. Beyond being empowered, you'll also come to understand what we're all about.
We are a community of men, women, and children who train and love to share their time and energy in a very positive and fulfilling way and in an equally responsive environment. 
We offer alive, adaptable and functional training in a challenging, pro-active and FUN curriculum.
Want to better yourself?  Our amazing QUICK START TRIAL makes it easy for you to get started with us.
A Fun, Friendly, Challenging Environment
We understand that sometimes the hardest part about joining a martial arts school is actually walking in the front door. People have a preconceived idea of what it is going to be like, and it can very intimidating.  At Straight Blast Gym Niagara, we take away any anxiety you may be feeling the moment you walk into our gym.

From our non-traditional, relaxed friendly atmosphere, to the welcoming nature of our coaches and members, and the overall "we appreciate you giving us the opportunity to show you our gym" vibe,  you'll feel comfortable and secure in the fact that you are welcome,  and will not be taken advantage of and are being trained by qualified world class coaches. 
Specialized Kids Programs
Our "Growing Gorillas"and "S.A.F.E. Bully Proofing" Programs help kids develop as well-balanced individuals through all stages of growth.

We love kids, their well-being is our passion. The children's programs we have developed over the years has helped thousands of children.
From kids to teens, they have improved their confidence, physical fitness, and grow an awareness of the world around them and how they fit in.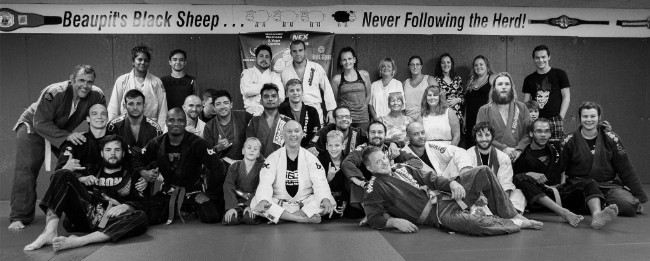 Beginner Friendly Adult Programs
You're going to love our programs and how they make you feel about yourself.
Our classes will get you into great shape, help relieve stress, and provide you with the skills and confidence to protect yourself should the need ever arise. And you will have a lot of FUN doing it! We offer the most functional training in self defense, combat athletics, fitness, and personal growth, to every type of human body that walks through our door.
Mr. Beaupit quickly developed a strong rapport with each class and was able to maintain on-task behaviour in even the most challenging students. The core elements of his program are life skills that are transferable to all aspects of students lives. He has a commanding presence in front of both large and small group settings. Mr. Beaupit is a gifted teacher with a wealth of experience and uncommon ability to make connections with his students.