Straight Blast Gym of Niagara is a safe environment open to people from all walks of life. You don't need to be a super-athlete. You just need to be willing to learn. That's the starting point. The goal then is one of group learning, rather than a mechanism of enforced hierarchy. This sets Coach Rich's gym apart from so many others. Here, community means more than notoriety. And the seriousness of training is not trumped by ego, but predicated on the idea that we can help each other be better - both on the mats and out in the real world.
CONFIDENT & EMPOWERED
Brazilian Jiu-Jitsu promotes self-defense at all levels, for people of all body types and sizes.
Brazilian Jiu-Jitsu is a martial art, combat sport, and a self-defense system that focuses on grappling and especially ground fighting.
BJJ promotes the concept that a smaller, weaker person can successfully defend against a bigger, stronger assailant by using proper technique, leverage, and most notably, taking the fight to the ground, and then applying joint-locks and chokeholds to defeat the other person.
Want to learn this beautiful art? Our amazing QUICK START TRIAL makes it easy for you to get started with us.
SBG Brazilian Jiu Jitsu - The Efficient Art
Brazilian Jiu-Jitsu (BJJ) has been a huge part of the Straight Blast Gym (SBG) curriculum from day one. Not only does this amazing art serve as the base for all the groundfighting that is trained within SBG.  Brazilian Jiu-Jitsu also serves as a living reminder, a moving, breathing example of what fully 'Alive' Arts look, feel, act, and perform like.
OUR UNIQUE PERSPECTIVE ON BJJ
The SBG has a unique take on BJJ. Each BJJ class taught at an SBGi Gym is 100% Alive, with progressive resistance, making each training session FUN and challenging.
That means the Coaches use the 'I' method of teaching, and allow each individual athlete the freedom needed to develop his, or her own game to it's highest levels of performance.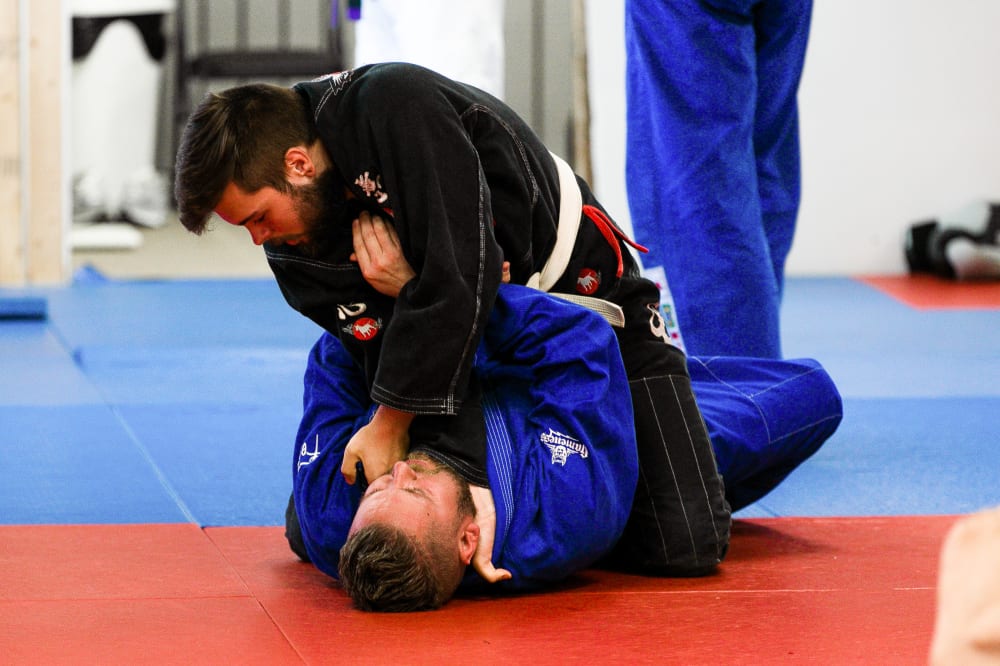 FEEL COMFORTABLE WITH OUR ABSOLUTE BEGINNERS PROGRAM
We understand that it is intimidating trying something new, and one thing adults do not want to feel is embarrassed. You will never feel that at SBG Niagara.
Everyone starts off in our Foundations classes, our Absolute Beginners Program, carefully designed to build your confidence while learning the fundamentals of Brazilian Jiu Jitsu.
We have athletes in our program from 13 to 67 years of age, proving our coaching methods work for every-body!
LEARN FROM QUALIFIED COACHES THAT CARE
All SBG Instructors are required to have performance proficiency in the art of BJJ, and each Coach is measured within the regular and established BJJ belt system.
Not only are our SBG Coaches highly skilled in the beautiful art of Brazilian Jiu Jitsu, but they are also all capable of teaching it to others, in a safe, fun and friendly environment.