All of our Martial Arts Programs for adults and kids adhere to the world class standards of Straight Blast Gym International, a world leader in functional martial arts training.
---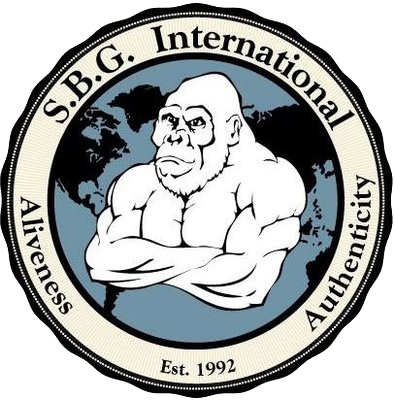 SBGi is a group of individuals dedicated to and held together by their common belief in training alive.
SBGi is not any one particular gym. It is not a group of buildings. It is not a club, or social organization.
SBGi is a group of mixed martial arts gyms led by some of the most talented, intelligent, inspired, honest and functional Martial Arts Coaches you will ever meet.
---
SBGi provides 'every-body' with a functional martial arts and fitness program.
Our mandate is to offer everyone – young and old, with any type of body shape – the cutting edge in self defense, combat athletics, fitness, and personal growth.
Young athletes will find a place in our gym, alongside professionals who have to work 45 hour weeks. Women and older adults looking to get into shape, have fun, and learn self defense will also find they belong. And children of all ages can learn martial arts in a positive atmosphere of friendship and fun.
We are you and your family.
SBGi is organization built of – and on – each and every one of its members, and their individual questions, experiences, discoveries, needs and concerns. We are you... and we are your family.
Our members include people who train for a wide variety of reasons – from fun, fitness, recreation, sport, self-defense through to specialized agencies, facilities and units.
On any given week somewhere in the world, we have athletes of all ages competing.
Although it's completely optional for members, many do enjoy competing. On any given weekend around the world, you will find boxing, kick boxing, MMA, BJJ, Judo and submission grappling competitions.
And others in specialized training programs.
Elsewhere you will find SBGi gyms running pee-wee classes, women's rape-prevention courses, instructing peace officers, training specialized military units, running fitness and well-being classes, etc.
We coach, learn and train every aspect of our curriculum with a method and approach paramount to learning the way nature intended, through the self-discovery and experienced guidance of progressive but direct immersion and the priceless self-knowledge there gained or re-discovered.
Find Out How We Can Help You
What's New?
Jul 30th, 2017
Let us help you prepare your child for a successful school year!
Jul 25th, 2017
Watch our amazing video to feel what SBG is all about - the people and the vibe. It's what sets us apart from the rest, and makes us one of the absolute best!