Straight Blast Gym Niagara offers functional martial arts and fitness programs for men, women and children of all ages!
What will you find at our gym?
Alive, adaptable and functional training in a performance oriented, challenging, pro-active and athletic curriculum.
Laughter and good fun in an overall fitness centered approach to martial arts training.
A community of men, women, and children who train and love to share their time and energy in a very positive and fulfilling way and in an equally responsive environment.
What won't you find?
Just as important as what you will find!
The titles, rituals, terminology, ranks and politics that go along with most martial arts myths and illusions.
No marketing gimmicks or sales pitches, no talking anyone into joining, and no "used car salesman" tactics.
Relaxed, Friendly Environment
We understand that sometimes the hardest part about joining a martial arts school is actually walking in the front door. People have a preconceived idea of what it is going to be like, and it can very intimidating.
At Straight Blast Gym Niagara, we take away any anxiety you may be feeling the moment you walk into our gym.
From the non-traditional, relaxed friendly atmosphere, to the welcoming nature of our coaches and members, and the overall "we appreciate you giving us the opportunity to show you our gym" vibe.
You'll feel comfortable and secure in the fact that you are welcome, will not be taken advantage of and are being trained by qualified world class coaches.
We've been doing this a long time and are passionate about our work. Every day we open the gym with a refreshed, excited attitude... and you feel that when you come to class. Our thinking is ahead of the curve, it's inclusive and it's based on over 20 years of experience.
---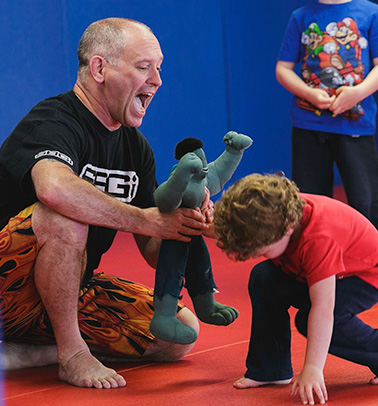 Specialized Kids Programs
Our programs for kids help them develop as well-balanced individuals through all stages of growth.
We love kids, their well-being is our passion. The children's programs we have developed over the years has helped hundreds of youngsters through their early years improve their confidence, physical fitness, and grow an awareness of the world around them and how they fit in.
S.A.F.E. Bully Proofing System©
One of our most successful kids programs is the S.A.F.E. Bully Proofing System©, taught in Elementary and Secondary schools from Fort Erie to Toronto since 1989. The goal of the system is to help kids deal with bullying by teaching them mental, emotional and physical strategies to use under stress.
---
Get Fit and Build Confidence
You're going to love our programs and how they make you feel about yourself.
Our classes will get you into great shape, help relieve stress, and provide you with the skills and confidence to protect yourself should the need ever arise. And you will have a lot of FUN doing it!
Our goal is to offer the most functional training in self defense, combat athletics, fitness, and personal growth, to every type of human body that walks through our door.
A Program for Everyone
Whatever your age, fitness level, or gender... we have the perfect program for you.
Not just 22 year old athletes (although they will certainly find their niche here as well), but to professionals who have to work 45 hour weeks. To women of all ages. To older people, looking to get into shape, have fun, and learn self defense. To children of all ages who can learn the Arts in a positive atmosphere of friendship and fun.
What we offer is for EVERY-body!
Start Now!
What's New?
Jul 30th, 2017
Let us help you prepare your child for a successful school year!
Jul 25th, 2017
Watch our amazing video to feel what SBG is all about - the people and the vibe. It's what sets us apart from the rest, and makes us one of the absolute best!